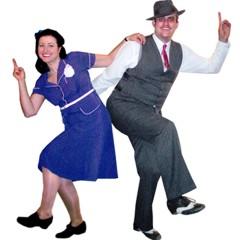 Lindy Hop Classes from Caron and Steve of 52nd Street Jump. These easy, fun classes run most Thursdays at The Mayfair Family Club in Louth, Lincolnshire. Check website before travelling.
Doors open 7.30pm and Beginners class starts 7.45pm.
Intermediate class 9.00pm
Freestyle dancing to music from the 30's to the 50's brought to you by DJ Dr Swing.
Admission £6
The Mayfair Family Club
Birch Road
Louth
Lincolnshire
LN11 8DU

More information at:
http://www.52ndstreetjump.co.uk
or call 01507 463130
Phone Bookings: 01507 463130. 
►
Further Information
Dance Class. Instruction (Beginner and Intermediate), Practice and Social for Jive, Balboa, Charleston, East Coast Swing, Jive (50s & American), Jitterbug, Lindy Hop, Swing and Boogie Woogie Dancers. Bar. Soft drinks available. Doors open at 19:30. Event starts at 19:45. Admission £6.00.

52nd Street Jump began when we started teaching Lindy Hop together in Susses and London in 2005. We went on to teach several popular classes including the popular Foundation Class at Pineapple Dance Studios. We also ran many successful club nights including Saturday Night Swing Club. When moved to Lincolnshire in 2010, we were drawn back into teaching and set up Louth Lindy Hop Club. This was followed by Lincoln Lindy Hop Club in 2017.
Venue: The Mayfair Family Club
,
Birch Road

,

Louth

,

Lincolnshire

,

LN11 8DU
 ►
All Dance Classes and Events for The Mayfair Family Club
 ►
Venue Map with Streetview

No Smoking. Car Park.