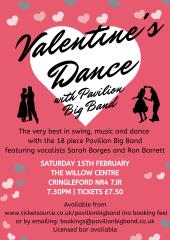 Enjoy an evening of the very best in swing, latins, music and dance with Pavilion Big Band. Be entertained by our 18 piece band and vocalists and dance or jive the night away with a fantastic variety of music and song. You don't have to be a dancer to come along, as a great evening of music and fun is guaranteed!

With vocalists Sarah Borges and Ron Barrett bringing to life the classics of Ella Fitzgerald and Frank Sinatra through to Caro Emerald and Robbie Williams, enjoy the spectacular sight and sound of a bigband.

Tickets £7.50 available from www.ticketsource.co.uk/pavilionbigband (no booking fee)
►
Book Online Now
Dance Event. Practice, Concert, Social, Ball and Live for Disco, Jive, Tango, Jazz, Mambo, Waltz, East Coast Swing, West Coast Swing, Cha-Cha, Rumba, Samba, Lindy Hop, Swing, Latin American and Ceroc Dancers. Bar. Soft drinks available. Doors open at 19:00. Event is 19:30-22:30. Admission £7.50.
18 piece bigband with vocalists available for dances, weddings, 1940s events, parties and any other event that needs to go with a swing! With music from the 20s/30s, the bigband era of the 40s through to modern standards, our vocalists bring to life the classics of Ella Fitzgerald and Frank Sinatra through to Caro Emerald and Robbie Williams and guarantee to keep the dance floor full!
Venue: The Willow Centre
,
1-13 Willowcroft Way, Cringleford

,

Norwich

,

Norfolk

,

NR4 7JJ
 ►
All Dance Classes and Events for The Willow Centre
 ►
Venue Map with Streetview

No Smoking. Car Park.