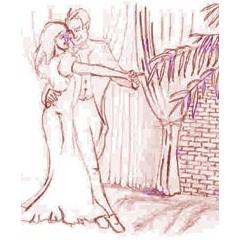 The DelRay Ballroom is a studio where students and professionals can be dedicated to the joy and art of partnership dancing. We teach all styles of dance from Ballroom and Latin, to Swing and Country. All our instructors are professionally certified by the North American Dance Teachers Association and registered with the National Dance Council of America. Let The DelRay Ballroom teach you poise, style, appearance, dancing positions, footwork, techniques, how to lead and follow, but most of all... the pure joy and love of dancing. Please see website for full scurrent schedule of dance classes, courses and events.
Dance Class. Instruction, Practice and Social for Mixed Social, Bachata, Bolero, CW Couples, Mambo, CW Partner, Hustle, Waltz, East Coast Swing, West Coast Swing, Cha-Cha, Foxtrot, Polka, Waltz (Viennese), Rumba, Samba, Two Step (CW), Tango (Ballroom), Quickstep, Paso Doble, Jitterbug, Lindy Hop, Country Western, Latin American, Tango (Argentine), Shag (St Louis) and Ballroom Dancers.

Styled after the dance clubs and lounges of the 1940's, The DelRay Ballroom and Lounge hosts live music, classy cocktails, and ballroom dance lessons every night of the week, and is available to rent for special occasions. Whether stopping by for a cocktail after a movie, out for a date and some quiet conversation, or looking for some fabulous musical entertainment and a night out on the town, The DelRay Lounge is the place to be in Lincoln, Nebraska.
Venue: The DelRay Ballroom & Lounge
,
Suite A, 817 R Street

,

Lincoln

,

Nebraska

,

68508
.
 ►
Website
 ►
All Dance Classes and Events for The DelRay Ballroom & Lounge
 ►
Venue Map with Streetview

The DelRay Ballroom is a beautiful and completely unique facility available for a variety of events such as receptions, proms, and formals, as well as, business meetings, seminars, and private parties.