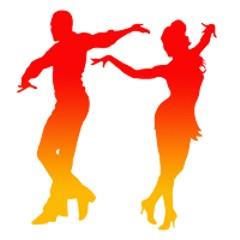 Members £4, concessions available. Free tea/coffee+biscuits /// Ballroom/Dancesport practice session, mainly aimed at amateur competitors but available for ballroom dancers of all grades, competitive or social, to dance and/or practice. Work it through here rather than be an inconvenience at a social dance! /// Exceptions (2015): April 14, May 12, October 13; AGM March 31 - no admission to non-members until meeting finishes (practice thereafter) ///
Dance Class. Practice and Social for Dancesport, Waltz, Cha-Cha, Foxtrot, Waltz (Viennese), Rumba, Samba, Tango (Ballroom), Quickstep, Paso Doble, Modern Ballroom, Latin American, Jive (Ballroom) and Ballroom Dancers. Event is 20:00-22:00. Admission £5.00.
Organiser:
Avon Amateur Dancers Club
Contact: Peter Jones or Jack Gibson. Tel:
0117 971 0871
or 01934 823128.
 ►
Website
 ►
Full DanceWeb Entry
/// Practice session every Tuesday at Somerset Hall, Portishead - all welcome. (Check dates at our web site or in the DanceWeb event listing) /// Sunday social tea dance approx monthly /// Easter, Summer, Autumn, and Christmas party nights (frequently with top-class demonstration / cabaret, buffet included at Summer and Christmas) /// Contrary to the "classes" listing (no choice!) we are an amateur club - we DO NOT provide tuition or a partner matching service ///
Venue: Somerset Hall
,
The Precinct, High Street

,

Portishead

, Bristol,

Somerset

,

BS20 6AH
 ►
All Dance Classes and Events for Somerset Hall
 ►
Venue Map with Streetview

Car Park. /// Easy access from M5 J19 (Gordano Services) - follow signs for Portishead /// Use the free car park at the rear, access from Wyndham Way opposite McDonald's. Walkway to Precinct is at the far end (away from Aldi) /// Excellent dance floor ///.