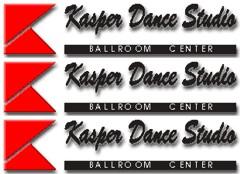 Extensive program of Classes, Courses and Workshops. See website for current schedule.
Dance Class. Instruction, Course, Practice, Workshop and Social for Jive, Tango, Mixed Social, American Smooth, Waltz, Cha-Cha, Foxtrot, Waltz (Viennese), Rumba, Samba, Tango (Ballroom), Quickstep, Latin American and Ballroom Dancers.

Kris Kasperowicz, owner and operator of the "Kasper Dance Studio", 3201 N. Long Ave., was born in Olsztyn, Poland. He met his wife Ela in 1975 in "Miraz", Poland's largest dance club. During their first two years together, the pair danced modern jazz and started ballroom dancing for the fun of it. Their son Matthew has received several awards in different competitions he has entered. Kris and Ela advise parents to start their children in dance classes as early as five or six.
Venue: Kasper Dance Studio
,
3201 N. Long

,

Elmwood Park

, Chicago,

Illinois

,

60641
.
 ►
Website
 ►
All Dance Classes and Events for Kasper Dance Studio
 ►
Venue Map with Streetview