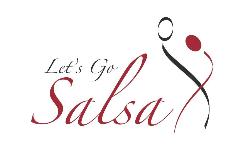 Lets Go Salsa!

Love to dance?
Want to get out and do something different?
Would like to get fit and have fun?
Want to meet new people?

Then Lets Go Salsa is for you!

Lets Go Salsa! are dedicated to introducing people to salsa! We want to make you the best salsa dancer you can be!

Our Teachers are passionate, enthusiatic, energetic Salsa Teachers.

We are dedicated to Club style salsa (Crossbody).

Our aim is to introduce as many people as possible to Salsa, to make them feel comfortable and confident on the dance floor, and to encourage you to develop you own individual style.


To Live is to Dance, To Dance is to Live!
Phone Bookings: 07507728199. 
►
Further Information
►
Book Online Now
Dance Class. Instruction (Novice, Beginner, Improver, Intermediate and Int/Advanced), Practice (Novice, Beginner, Improver, Intermediate, Int/Advanced, Advanced and Master) and Social (Novice, Beginner, Improver, Intermediate, Int/Advanced, Advanced and Master) for Salsa (Cuban), Bachata, Merengue, Mambo and Salsa Dancers. Bar. Soft drinks available. Doors open at 19:00. Event starts at 20:00.

Let's Go Salsa... Salsa Lessons Every Thursday. 8pm-8.30pm £4 Basic steps with Janet (+beg £6 for 1.5hr) Shines(footwork) with Austin(+ imp/int £7 for 1.5hr) 8.30pm - 9.30pm £6 Beginners with Janet Improvers with Austin & Nelly Intermediate with Steevo & Jasmin 9-30-12am FREE Club with DJ Sharky playing the best in Salsa, Merengue, Bachata & Cha Cha. Regular monthly Party nights ! The new Friday night @ the Langthorne every Thursday!
Venue: The Langthorne
,
12-14 Broadway

,

Stratford

,

London

,

E15 4QS
 ►
All Dance Classes and Events for The Langthorne
 ►
Venue Map with Streetview

No Smoking. Opposite the Latin Quarter.