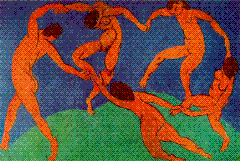 Midsummer's Eve Salsa Party Wednesday June 20th 2007

Midsummer is the celebration of the Summer Solstice which marks the longest day of the year. Every June 21st at Stonehenge Druid celebrations take place as the sun shines on one famous stone - the Heel stone.

Bonfires are lit to show respect for the Sun God, whose power is greatest at the Summer Solstice. Practice of this ancient ritual, which also includes a Summer Solstice Circle Dance, where the maypole represented a symbol of fertility, is now mainly confined to Cornwall, the West Country, and London's Hampstead Heath. Dancers dance in a circle each holding a coloured ribbon attached to a central pole. Anyone knowing the foot work should contact me asap ! Ribbons will be supplied.

Every Wednesday
Beginners Section (Level 1) 8 - 9pm Beginners with 2-left feet especially welcome
Private Sessions (pre-booked only) 7 - 8pm, 8 - 9pm
Improvers Section (Level 2) 9 -10 pm
Intermediates Section (Level 3) 9 - 10pm

Phone Bookings: 07947 765499. 
►
Further Information
►
Book Online Now
Dance Class. Instruction (Beginner, Improver, Intermediate, Int/Advanced, Advanced and Master), Party, Practice (Beginner, Improver, Intermediate, Int/Advanced, Advanced and Master), Masterclass, Workshop and Social (Beginner, Improver, Intermediate, Advanced and Master) for Salsa (Cuban), Rueda, Bachata, Merengue, Mambo, Cha-Cha, Salsa and Latino Dancers. Bar. Soft drinks available. Doors open at 19:30. Event starts at 20:00. Admission £7.00.

London Salsa, Bachata & Kizomba & Zumba Fitness at Trent Park. We dance in Oakwood,Enfield, North London & South Herts.Salsa & Zumba Fitness Classes and club every Week.Beginners can start any week all welcome. Special classes available in Zumba,Kizomba, la rueda, Bachata, merengue,Hip Hop, Street,jive,swing,ChaCha,ballroom.New seperate Kizomba room 9pm - Midnight - open til 1am on all Party nights.07947 765499 Facebook Group https://www.facebook.com/?ref=tn_tnmn#!/groups/hotsalsa/
Venue: Club 19 at Trent Park Golf Club
,
Bramley Road

,

Oakwood

, Enfield,

London

,

N14 4UW
 ►
All Dance Classes and Events for Club 19 at Trent Park Golf Club
 ►
Venue Map with Streetview

No Smoking. Car Park. Function rooms with panoramic views over Golf Club and Country Park.Air-conditioned, 2 wooden dance floors, Bar, lounge, large car park for 200 cars. Opp Oakwood Tube Station. Between Barnet & Enfield. J24 on M25.