Tue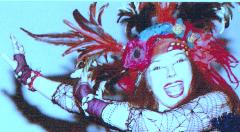 A network of busy belly dance classes over the Greater Manchester area. Fun, different and really uplifting! See website for full current schedule of classes, and detailed directions to all venues.Regular Dance Classes, Instructor for Hire, Corporate Entertainment. Dance Styles: Belly Dance, Oriental, Fitness.
AUkrainian Club, Ukrainian Social Club , 185 Buxton Road, Great Moor, Stockport, Cheshire, SK2 7AA 

Car Parking. Stage. On the A6 facing Stockport Grammar School. About 2 miles from Stockport Town Centre on the left just before Mile End Lane. Large free carpark at back 

19:00
-
20:00

Belly, Oriental, Fitness, Zumba Course, Instruction at Beginner level, Practice at Beginner level, Social Dancing at Beginner level. Doors open 18:30. Admission £4.00. Bring your own drinks. To book or for further details: Book, Info, Tel: 01614874134. Lovely new class in Great Moor at the well known Ukrainian Social Club. On Tuesdays 7pm to 7.50pm. Cost only £4 and large free car park at the back. On the busy A6 facing Stockport Grammar School. Coming from Stockport it's on the left hand side just before you come to Mile End Lane. A high stage for the instructor so you can see clearly even if you are on the back row. This class focusses on the more eccentric and quirky routines that have originality and flair. The instructor herself is a real character and you'll find this class a cross between a fitness class and going to a comedy club. Exercise has never been so much fun! No need to book just turn up on the night!