Sun
03 Jun 12
-
Sun
29 Dec 13
(Weekly)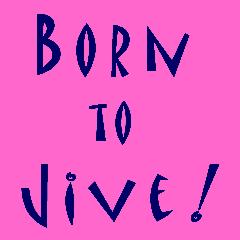 Born To Jive!
We are a Modern Jive dance company near Bournemouth. We offer: Weekly drop-in classes, "Learn Modern Jive in a Day", Workshops, Private Lessons, Wedding First Dance choreography and lessons, Jive Parties for fun or for fundraising, Guest lessons for freestyles and weekenders and Corporate Events. We also teach Milonga-Jive - a fusion of (fast) tango and (smooth) Modern Jive.Private Coaching, Dance Studio/School, Regular Dance Classes, Instructor for Hire, Dance Company, Workshops, Weddings. Dance Styles: Ceroc, LeJive, Le Roc, Jive.
AVerwood Concert Brass Band Hall, Moorlands Road, Verwood, Dorset, BH31 7PD (near Ringwood) 

Website. Car Parking. Small hall with kitchen. Short pile carpet floor - can be danced on with normal dance shoes. 


Ceroc, LeJive, Le Roc, Jive Workshop, Instruction at Beginner to Advanced level Dancing. Doors open 00:00. Admission £25.00. Bring your own drinks. To book or for further details: Info, Tel: 01202. This programme of workshops covers all aspects of Modern Jive. We teach in a friendly but detailed way so you will get a lot out of a workshop with us. Check our website for workshop dates and further details. The workshops in the programme are: Begginers 1 Beginners 2 Intermediate 1 Intermediate 2 Advanced Leans & Gentle Drops Drops(limited numbers, £30) Baby Aerials (limited numbers, £30) Milonga-Jive 1 Milonga-Jive 2 Musicality Rock 'n' Roll moves for jivers Cha Cha moves for jivers Social Foxtrot moves for jivers Charleston moves for jivers Lindy Hop moves for jivers