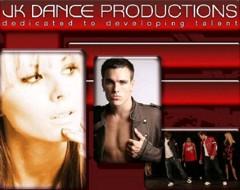 Manchester-based JK Dance Productions is one of the UK's most active and well-respected dance production companies. We supply Choreographers, Dancers, Free Runners, Make Up Artists, Stlists for Film, TV, Pop Promos Live Events, Fashion Shows. Recent credits, Do the Lambrini TV and internet campaign, Daz Washing Powder TV Campaign, Hobby Craft TV Campaign, Wallice Bird music video, Unabombers music video, Nike Spring Range product launch We can also supply workshop leaders for dance classEvent Organiser, Dance Hall for Hire, Dance Studio/School, Instructor for Hire, Make Up, Choreographer, Band/Artist/Dancer Agency, Shows and Concerts, Dance Company, Event & Party Suppliers, Own Choreography, Job & Work Finder, Corporate Entertainment, Tours, Rehearsal Studio. Dance Styles:
All
, Latin American, Street Dance, Pop-Video Dance, Hip-Hop. Also Wholesale.
Contact: Julie Kavanagh
Tel: 0161 4325222, 07900248141
Email: info@jkdance.co.uk.
(Last Edited: 15/11/2007)