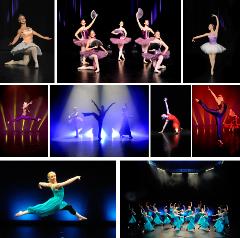 Auditions for entry to our Professional Dance Training & Dance Teacher Training Course in September 2013.

Prospectus, testimonials, photos, Application Form & more on our website.

Each audition day will consist of a jazz workshop, a ballet workshop, the Artistic Director's talk and your individual audition of a 2 minute piece in your chosen genre. Full details are within the Audition Application Form which is now available to download on our website.
Phone Bookings: 0131 226 5533. 
►
Further Information
►
Book Online Now
Dance Event. Audition, Instruction (Intermediate, Int/Advanced and Advanced) and Practice (Intermediate, Int/Advanced and Advanced) for Ballet, Tap, Jazz, Stage, Flamenco, Modern, Contemporary, International and Street Dancers. Doors open at 09:30. Event is 10:00-16:00. Admission £30.00.

Dance For All is a hub of expertise that you can dip into at any age and level, from the complete beginner to the experienced professional. Over 70 child, teen & adult classes are taught every week by an inspirational faculty of tutors alongside the full time Professional Stage Dance & Dance Teacher Training course. Accredited by: RAD, ISTD, Spanish Dance Society & Edinburgh College. 106 St Stephen St Edinburgh
Venue: Dance For All
,
106 St Stephen Street, Stockbridge, EH6 8EL

,

Edinburgh

,

Lothian

,

EH3 5AQ
.
 ►
Website
 ►
All Dance Classes and Events for Dance For All
 ►
Venue Map with Streetview


No Smoking.