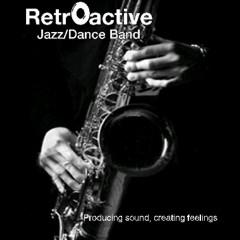 The 11 piece band RetrOactive will be holding their annual HART fund raiser on 9th February 2013.

So why not take this opportunity to banish your winter blues and brighten up your February with this Supper and Dance Night at the Henfield Village Hall

RetrOactive is fast becoming one of the most sort after bands for weddings and functions, making this annual fund raiser for HART one of the only opportunities that there is to come and hear and dance to this outstanding band at a public event.

With all the ingredients for the perfect night out you can soak up the fun party atmosphere, enjoy a delicious hot supper, drinks from the bar plus a wide variety of music from RetrOactive, whilst raising money for this valuable village service.

This is truly a night with something for everyone and not to be missed.
Phone Bookings: 07702 094540. 
►
Further Information
►
Book Online Now
Dance Event. Fundraiser, Party and Live for Jive, Blues, Jazz, West Coast Swing, Swing, Freestyle, Jive (Ballroom), Le Roc and Ballroom Dancers. Bar. Soft drinks available. Doors open at 19:30. Event is 20:00-23:30. Admission £15.00.

RetrOactive is an extremely flexible and versatile 11 piece band, made up of some of the finest musicians around. This lively and talented group are able to play and perform all styles, be it jazz, swing, blues, Latin, funk or rock to its best making them an ideal dance band.
Venue: Henfield Hall
,
Coopers Way, High Street

,

Henfield

, Brighton,

West Sussex

,

BN5 9DB
 ►
All Dance Classes and Events for Henfield Hall
 ►
Venue Map with Streetview

No Smoking. Car Park.