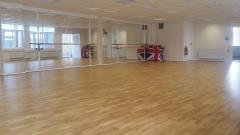 A new studio facility has been developed in the Midlands as a centre of excellence for dance and holistic exercise.
The venue has been extensively refurbished by TopLine Dance Products as an extension to its online retail business, which has been operating since 2010.
Located in Stafford, it incorporates two studios with more than 170 square metres of space available for hire by groups, schools and individual teachers.
The facilities include floor-to-ceiling mirrors in the main studio which is filled with natural light and an in-built sound system with blue tooth connectivity. It has been developed to lend itself to a variety of dance styles, yoga, fitness and rehearsal space.
The centre includes additional facilities such as meeting rooms, display areas and kitchen to provide space for multiple uses such as classroom training and business meetings.
Stafford's location in the centre of the country - just minutes from the M6 and with good train connections to the north and south of the country – will provide much-needed quality facilities in the Midlands.
TopLine Dance Products' international ambassadors, Domen Krapez and Natascha Karabey, will be using the studio as their North of England/Midlands base for training and tuition.
Opening at the end of April, classes will be promoted by individual dance and fitness teachers and also promoted through TopLine's website:
www.toplinestudio.co.uk
and its Facebook page.
The venue is available to hire seven-days-a-week for individual, group, or school bookings with hire rates starting from £12.50 per hour.
For further information contact:
07740 302151
toplinestudio@outlook.com
www.toplinestudio.co.uk
This page last updated: 10:36 GMT, Fri 7 Jun, 2019