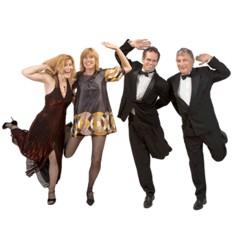 Rock Bottoms run hotel-based dance holidays, specialising in Modern Jive, Lindy Hop, Tango and West Coast Swing. These are mainly three night, long weekend breaks (Torquay and Liverpool), though we also host a 6 night Summer Holiday in Weymouth. We'll get you dancing every night (way into the early hours) with plenty of top-class dance workshops throughout each day. Included in the package is en-suite accommodation with evening meals and breakfasts provided.Event Organiser. Dance Styles: Tango (Argentine), Jive (French & Modern), West Coast Swing, Lindy Hop, Tango Dance.
Contacts: Tor Fleming, Hev Mate
Tel: 01296 331525, 07967 904096
Email: Rock Bottoms.
(Last Edited: 14/4/2014)