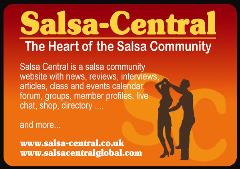 Salsa Central is a global Salsa community website, with news, reviews, interviews, articles, photo and video galleries, forum, shop, directory, and moreDance Wear, CDs, Cassettes, Regular Dance Classes, Chat Room, Discussion Forum, Class Directory, News, Performances, E-Magazine, Event Calendar, Music Reviews, Band/Artist/Singer Directory, Corporate Entertainment, Internet Radio Station, Blog. Dance Styles: Latin American, Salsa Dance, Merengue, Mambo, Cha-Cha, Latino, Salsa (Cuban), Rueda, Bachata, Reggaeton. Mail Order Available.
Contacts: Steve Bridger, Mel Carpenter
Tel: 07980 154139, 07843 262667
Email: Salsa Central.
(Last Edited: 25/1/2008)